About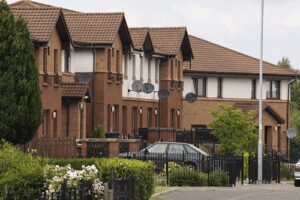 Barrhead Housing Association is a locally-based provider of high quality, affordable, rented housing.  Set up as a registered social landlord in 1986, the Association's initial aim was to improve the tenemental properties in the centre of Barrhead and we soon thereafter started a programme of building new properties for rent. Now the majority of our homes are newbuild.  In 2001, we successfully transferred 245 homes from Scottish Homes and quickly completed the key improvements required, which included the demolition of properties in Auchenback – these have been replaced with new terraced houses and flats. In 2004 we became a registered Scottish charity. We are now a key locally controlled housing association owning 947 properties through East Renfrewshire, although mainly in Barrhead, Neilston, Newton Mearns and Thornliebank.  This includes 12 new affordable homes provided in partnership with Taylor Wimpey in August 2020 and 10 with Bellway in 2021.  We have plans to work in partnership to provide a further 45 properties over the next 18 months across Barrhead.
We provide homes for around 2,500 people with more than 750 seeking a home from us, and hundreds involved in our community activities annually.
What we do
The Association provides accommodation for general housing and also specialised housing including sheltered housing, wheelchair housing and housing for the elderly.  We participate in the Scottish Government's 'Mortgage to Rent' scheme to help out owners faced with serious financial difficulties and a 'Rent off the Shelf' programme to increase the supply of rented housing in the Eastwood side of the authority.
Community Investment
Over the last three years BHA has successfully managed flagship community led projects including DIY Dunterlie which helped local residents build confidence, develop new skills and participate in initiatives which can impact positively on their lives; and Creative Pathways with Impact Arts which helped young people gain creative, practical experience supporting community initiatives.
We use participatory budgeting to empower local people to choose where and how money was spent in their local areas.
Almost £600,000 of external funding was secured between 2018 and 2021 for our local communities.  The National Lottery Community Fund in Scotland supports the Brighter Future Barrhead initiative, which aims to empower local residents and enhance their health and wellbeing by tackling poverty and inequality through a co-ordinated partner and community volunteer approach, with the Association as the lead delivery and managing partner.  We also received support from the Scottish Government's Supporting Communities Fund which has so far been distributed to 14 vital partner community support agencies who are responding to the challenges created by Covid-19. Further support came from Keep Scotland Beautiful's Climate Challenge Fund project which facilitates discussion about climate change by delivering a series of cooking, upcycling and recycling workshops, aiming to increase the understanding of climate change in the local community through discussion and community climate themed events.
BHA was the first housing association in Scotland to sign up to the Board Charter to Community Investment which commits us to placing community investment as core to our role as a housing association and central to our social purpose.  Our new Community Investment Strategy 2021-25 has 6 priorities:
Tackle inequality and poverty
Reduce social isolation and exclusion
Create employment and training opportunities
Digital engagement and inclusion
Support community hubs and community led activity
Enhance health and wellbeing of communities.
How we operate
The Association is run by a Governing Board team of 12, made up of local residents, housing professionals, our local council leader, and local business people. As members of the Association, the governing Board is elected at the Association's Annual General Meeting.  The Governing Board meets to ensure that the Association is in control of its strategic direction, its commitments and services to tenants and residents.
We currently employ 28 people to carry out the operational activities of the Association.   Our new People Strategy aims to help every Barrhead Housing Association employee reach their full potential, to accomplish our mission 'At the heart of the community – investing in your future'.  It is an essential part of our overall business strategy, and sits alongside our Customer Service strategy, Asset strategy and Community strategy.  In return for the skills and commitment our colleagues bring to BHA – we trust, inspire and support all employees to delight their customers, invest in every employee's development and wellbeing, and offer an exceptional package of benefits and flexible working.
Our values are central to what we do and how we do it.  They incorporate the importance that we place on people, services and quality.
RESPECTFUL

– we are honest, trustworthy and reliable

ADAPTABLE

– we are flexible and react to change

DEDICATED

–  we care about our purpose

ASPIRATIONAL

– we are forward thinking and committed to improvement

RESPONSIVE

– we are efficient and accountable.
Our Subsidiary – Levern Property Services, LPS
Levern Property Services Ltd is a subsidiary of Barrhead Housing Association and is a company limited by Share. It was set up in November 2011 to become a commercial trading organisation with all profits being re-invested in Barrhead Housing Association. Barrhead Housing Association is the parent organisation, the only shareholder, with overall control of the subsidiary's strategic, governance and operational activities. Levern Property Services has no geographical base and will consider services across but not exclusively to the East Renfrewshire local authority area. It has an independent governing Board of 5 local people.
Further information