POSTED Monday 07-11-22
Trustee Week 2022
Trustee and Board Member Recruitment are a big part of what we do here at Aspen People. We want to take this week to talk about Trustees. We will look at what they are and how important Trustees are to any charity or not-for-profit organisation.
The Scottish Council for Voluntary Organisations (SCVO) is the national membership organisation for the voluntary sector. Their mission is to support, promote and develop a confident, sustainable voluntary sector in Scotland. The SCVO are a long-standing organisation, and since 1944 they have been passionate about what the voluntary sector can achieve. With over 3000 community members/supporters, SCVO believes that charities, social enterprises and voluntary groups make Scotland a better place. This is why we are happy to be one of those 3000 strong supports.
Trustees Week (7th – 11th November)
Every year, Trustees' Week showcases the work of charities and allows everyone to get involved and make a difference. They play a key role in the success and smooth running of a voluntary organisation. Each charity or not-for-profit group is unique and will be looking for trustees with specific interests, experiences and a passion for their work. By the end of the year, we will have worked on and completed over 50 Trustee assignments, and next year is looking to be even more.
The Gannochy Trust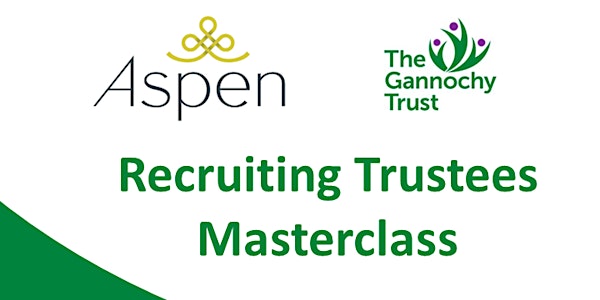 We want to thank The Gannochy Trust for partnering with us again and working on several assignments, including Trustee recruitment. We were also very proud to work with them, most recently on a series of online Masterclasses, with Debbie Shield hosting and leading discussions on Trustee and Board Member Recruitment.
The challenges for charities in recruiting Trustees can be a constant cycle of identifying skills or experience gaps. Then the difficult task of finding and recruiting volunteers to fill the gaps that you find. The Gannochy Trust commissioned a masterclass in Recruiting Trustees, led by us as we are specialist sector leaders in recruitment for charities.
The 90-minute events were well attended and delivered online via Zoom as a presentation followed by a Q&A session throughout October, and a final rescheduled event has been set for Wednesday, 9 November 2022, 10:00 – 11:30.
The Gannochy Trust is looking for interested parties who qualify via the following criteria
In the last 3 years, you have been a previous recipient of a Gannochy Trust grant.
You are working in Perth and Kinross.
The 20 places are limited to one per organisation on a first come, first served basis. So, if you qualify, click on the Masterclass image and reserve your spot. There aren't many left.
 Remember to check out our Current Opportunities page, as we have many Trustee opportunities.